Using OfferTrackr to Make Selling Items Locally So Much Easier

OfferTrackr is a new service that automates the process of negotiating with buyers, scheduling pickups, and sending reminders.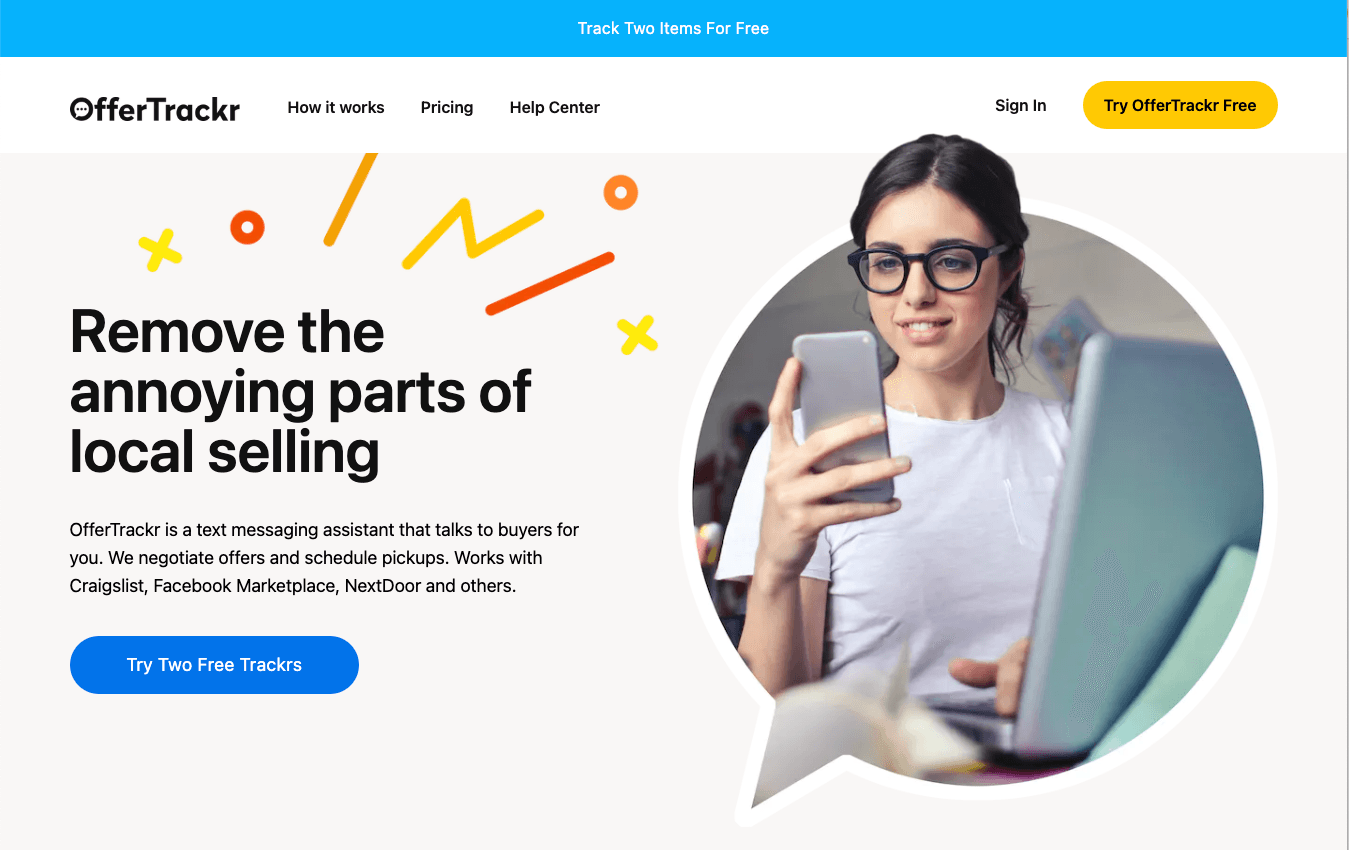 Selling your unwanted items locally on an online marketplace, such as Craigslist or Facebook Marketplace, can be a great way to make some extra cash. You can easily take photos and post your items, communicate with interested buyers, and negotiate prices all from the comfort of your home.
However, there can also be a few drawbacks to selling locally. Some people get burned out on selling items locally for a variety of reasons.
Online marketplaces are notorious for scams and fraud that are easy to fall for and can be an instant turn-off to sellers. They can also be very time-consuming with trying to find the perfect selling price for your item, communicating with your potential buyers, negotiating prices, and finding the right time to meet in order to complete the transaction.
If only there was a digital service that could help reduce these frustrations.
Introducing OfferTrackr.
OfferTrackr is an SMS service that takes the work out of selling items locally. Whether you list your items on Craigslist, Nextdoor, Facebook Marketplace, at yard sales, estate sales, fund raisers or anywhere else you normally post your items for sale, OfferTrackr provides the best way to sell locally.
OfferTrackr can automatically track the availability of your items, negotiate prices, schedule pickups, and send out reminders. It takes away all of the annoying parts of selling items locally. You list your item and can basically forget about it. OfferTrackr will do all the hard work and send you a text when it finds a buyer.
Here we take a look at the worst things about selling items locally and how OfferTrackr can help make selling so much better.
Reduce Potential for Fraud & Scams
Wherever there is an online marketplace, there is potential for bad actors to take advantage of people. Popular marketplaces like Craigslist, Facebook Marketplace, and OfferUp are notorious for potential fraud and scams.
These scams can include people asking you to wire money out of state or out of country, sending cashier checks that seem to clear the bank then end up bouncing after a few days, and trying to steal personal information, such as your address or bank account information.
You can avoid scams with OfferTrackr. With OfferTrackr, you can rest easy knowing you will be protected. OfferTrackr is a fully automated system that won't fall prey to scam artists.
Protect Your Privacy
When selling items on online marketplaces, it's super important to protect your privacy. Just like there are people who want to scam you out of money, there are people that want to steal your identity or use your information for other reasons.
Sometimes it can be difficult to protect your privacy online when selling locally. Craigslist does take a few measures to protect your personal information by hiding your email and phone number while others have a difficult time like Facebook Marketplace which users your Facebook profile.
OfferTrackr handles all the communication and keeps your identity and personal information completely hidden. Your phone number and email are never shown and only confirmed buyers get the pickup address.
Automatically Negotiate with Buyers
Is there anything more frustrating than finally getting an interested buyer just to have them offer to pay less than your asking price?
Negotiating is a normal part of selling on online marketplaces, but that doesn't mean it's a fun part. Even if you leave some room for negotiations in your price, it can be quite a process to reach an agreed upon price with your interested buyer.
For some people, the challenges of negotiating is enough to make them not want to sell locally at all.
Thankfully, OfferTrackr will automatically negotiate on your behalf to ensure you get the best price for your items. Sellers generally receive 20% more for their items when they use OfferTrackr.
Save Time and Effort
Even though there are some great benefits of selling locally, such as make some extra money and managing all your listings from the comfort of your home, it can also take a lot of work. If you've ever sold items on local online marketplaces, you know how time-consuming and labor-intensive it can be.
Creating the initial listing is hard enough. Then you need to respond to potential buyers, update them on availability, figure out the final sale price, schedule a pickup time, and then remind them to show up.
This can all be a hassle for just one item. Now imagine doing this for 5-10 items.
OfferTrackr helps you save all that time and effort. We help you handle all the communications, do the negotiating for you, and even schedule pickup times with buyers so you don't have to worry about coordinating schedules. Plus OfferTrackr sends out reminder texts for you to make sure the buyer shows up. Buyers found using OfferTrackr are 3x more likely to show up on time.
---
OfferTrackr is here to help you sell items locally without the headaches and hassles. We handle all the hard work for you, from negotiating to communication, to scheduling, so you can focus on what matters most: getting the best price for your items.
Give us a try today and see the difference OfferTrackr can make!